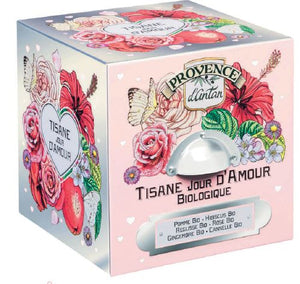 The perfect Valentine gift. This ode to love, and hymn to tenderness is an infusion of caress with each sip. Seductive, it knows how to play with its aromas of apple, hibiscus and licorice to enchant you. A herbal tea that
inspires you to remember your first love. Notes of cinnamon and ginger passionately mix with lemon and rose and open the doors to a paradise of fragrances. Like a love filter, you succumb to the charm of this romantic herbal tea.
Made with respect for our environment - without pesticides, chemicals or synthetic treatment. The tea is packed in protected workshops, free from plastics. The pouches are made with corn starch, the clear envelopes from wood and the print from vegetable ink.

Ingredients: Organic chamomile, Organic Thyme, Organic Rosemary, Organic Lavender, Organic Apricot natural flavor, Organic Apricot.


Product of France
For more information, click here