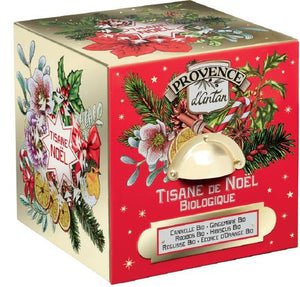 Citrus and natural plant flavors mingle with laughter. Hearts and bodies warm with the delicious taste of this amber-colored tea. You enjoy these moments of family sharing, around a herbal tea with a festive blend of spices. These simple pleasures make up the Christmas spirit and enchantment. The joy of transmitting the herbal tea tradition which celebrates Christmas and new year.
Made with respect for our environment - without pesticides, chemicals or synthetic treatment. The tea is packed in protected workshops, free from plastics. The pouches are made with corn starch, the clear envelopes from wood and the print from vegetable ink.

Ingredients: Organic Cinnamon, Organic Ginger, Organic Rooïbos, Organic Hibiscus, Organic Licorice, Organic Orange extract, Organic, Nutmeg, Organic Orange peel, Organic Lemon peel, Organic Black
pepper, Organic Lemon extract. Organic cloves.
Product of France
For more information, click here