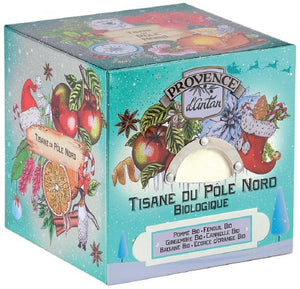 A team of flavors takes you to the Far North. Taste the unrivalled purity of these snowy spaces as far as possible. An ice desert that represents the visible side of the iceberg. This herbal tea is actually very warm. A particularly comforting sweet and spicy recipe. Your senses go on an expedition, carried by the thrill of adventure and this delicious journey.
Made with respect for our environment - without pesticides, chemicals or synthetic treatment. The tea is packed in protected workshops, free from plastics. The pouches are made with corn starch, the clear envelopes from wood and the print from vegetable ink.

Ingredients: Organic Apple, Organic Fennel, Organic Ginger, Organic Cinnamon, Organic Star anise, Organic Orange peel, Organic Chicory, Organic Orange extract, Organic Cardamom, Organic Cloves.
Product of France
For more information, click here